Dishwalla, Cracker, US Army Band, Shirley Alston Reeves & National Reserve Highlight Levitt Pavilion Concert Series Presented by Coordinated Health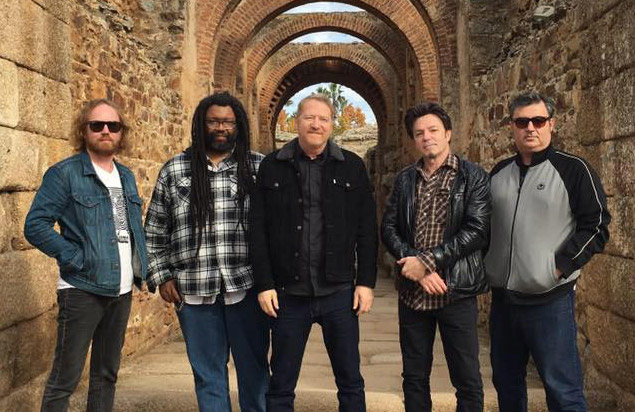 Series features over 50 free concerts for the community at SteelStacks from May to September
BETHLEHEM, PA—Alternative rockers Dishwalla, Cracker, GRAMMY winners Flor de Toloache, Shirley Alston Reeves, Donna the Buffalo and The National Reserve are among the many artists performing this summer at the Levitt Pavilion SteelStacks Summer Concert Series presented by Coordinated Health. The series, which kicks off with a preview weekend May 17-18 and runs through Sept. 7, features more than 50 free shows at the Levitt Pavilion, located at the base of the iconic Bethlehem Steel blast furnaces on Bethlehem's SouthSide.
On May 24, the Levitt Pavilion welcomes platinum-selling, award-winning Dishwalla. With a career spanning more than two decades, Dishwalla is counted among greats like Lenny Kravitz, the Goo Goo Dolls and Sheryl Crow — all of whom they've shared a stage with. Their award-winning hit "Counting Blue Cars" earned them a Billboard award for Best Rock Song and ASCAP awards for Rock Track of the Year two years in a row. Featured in movies like "The Avengers" and "American Pie," Dishwalla proves that though its edgy yet melodic music has shaped the soundtrack of the '90s, it still feels relevant today.
The following night, May 25, Cracker comes to town. Blending alt-rock, Americana, country, punk and more, this band has amassed multiple gold records, 10 studio albums and countless live performances over a career spanning nearly a quarter-century. It's no wonder the group's fan base stretches across the globe, with hits "Low," "Euro-Trash Girl" and "Get Off This" still circulating worldwide.
"Coordinated Health is very pleased to partner with ArtsQuest to bring such a diverse array of talent to our region, which in turn enhances the quality of life for everyone who lives and works in the Lehigh Valley," says Ron Ticho, Vice President, Corporate Strategy and External Affairs at Coordinated Health. "Over the past eight years, more than 500,000 people have enjoyed close to 400 free concerts at this great outdoor music venue and community resource located at the base of Bethlehem's iconic Steel blast furnaces. We are very proud to play a role in supporting this community programming."
Other Levitt Pavilion Summer Concert Series highlights include performances by GRAMMY winning all-female ensemble Flor de Toloache June 6, Rock and Roll Hall of Famer Shirley Alston Reeves of the Shirelles June 13, oldies group The Dovells June 27, U.S. Army Field Band July 3, popular roots-rock band Donna the Buffalo Aug. 29, Blues Music Awards nominee Anthony Geraci Sept. 2 and folk-rockers and Musikfest favorites The National Reserve on Sept. 7.
From June 28-30, the Levitt is home to the free Blast Furnace Blues Festival, featuring zydeco sensation Curley Taylor June 28, two-time Blues Music Awards 'Entertainer of the Year' Tommy Castro June 29 and singer-songwriter powerhouse duo The War and Treaty June 30. In mid-August, the Levitt takes people to Upstate New York as it pays tribute to the 50th anniversary of the Woodstock Music and Arts Festival. Among the acts that will take the stage as part of "Peace, Love and Rock 'n' Roll – a Celebration of Woodstock's 50th Anniversary," are Jefferson Airplane tribute Reverend Jefferson Aug. 16, the Craig Thatcher Band presenting the music of Jimi Hendrix Aug. 17 and Experience Janice, featuring CC Coletti's spot-on rendition of Janice Joplin, on Aug. 18.
In addition to Coordinated Health, the region's only specialized hospital and health network, sponsors at the Levitt Pavilion include Aesthetic Surgery Associates, Boyle Construction, Chevy 21, Christmas City Veterinary Hospital, Compass Point Consulting, Dietz & Watson, Embassy Bank, Fellowship Community, Gross McGinley, Highmark Blue Shield, King, Spry, Herman, Freund & Faul LLC, Lehigh Valley Community Foundation, Lindenmeyer Munroe, Mack Trucks, Nazareth Pallet Co., One Financial Services, Origlio Beverage, Penn Community Bank, People First Federal Credit Union, PPL Corporation, Provident Bank, QNB Bank and Service Electric Cable TV and Communications. Funding for the series is also provided by the Mortimer & Mimi Levitt Foundation.
The Levitt Pavilion SteelStacks is part of a growing family of outdoor permanent Levitt music venues across America. This year, 550-plus free Levitt concerts will be presented in 26 towns and cities. Leading the program's nationwide growth is the Mortimer & Mimi Levitt Foundation, a pioneer in the creative placemaking movement. Learn more at www.levitt.org.
For more information on the Levitt Pavilion Summer Concert Series, check out www.levittsteelstacks.org, like www.facebook.com/levittsteelstacks/ or follow twitter.com/levittstacks.
2019 Levitt Pavilion Summer Concert Series Lineup
Shows begin at 7:30 p.m. unless otherwise noted
May
May 24 Dishwalla (Alternative Rock)
May 25 Cracker (Alternative Rock)
May 26 Mike Mains & The Branches (Indie & Pop-Rock)
May 27 Maybird (Indie Rock & Jam)
May 30 The Moxie Strings (Pop, World & Rock)
May 31 The Stranger (Billy Joel Tribute)
June
June 1 The New Respects (Pop & Soul)
June 6 Flor de Toloache (Mariachi & Pop)
June 7 Deanna Bogart (Blues)
June 8 Kyle Lacy & the Harlem River Noise (Rock 'n' Roll)
June 13 Shirley Alston Reeves (Doo-Wop, Oldies & Rock 'n' Roll)
June 14 The Aardvarks (Party Band)
June 15 Birds of Chicago (Roots, Rock & Americana)
June 16 The Main Squeeze (Funk & Soul)
June 20 Empire Strikes Brass (Brass Band)
June 21, 8 p.m. Pablo Batista's Latin Jazz Ensemble with special guest Nestor Torres (Latin & Mambo) – Sabor festival
June 22, 8 p.m. Hermanos Moreno (Latin & Salsa) – Sabor festival
June 23 Andrew Leahey & the Homestead (Rock)
June 27 The Dovells (Rock, Soul & Oldies)
June 28 Curley Taylor & Zydeco Trouble (Zydeco & Blues) – Blast Furnace Blues Festival
June 29 Tommy Castro (Blues) – Blast Furnace Blues Festival
June 30 War & Treaty (Blues, Gospel & R&B) – Blast Furnace Blues Festival
July
July 3 U.S. Army Field Band (Patriotic)
July 4 The Allentown Band (Patriotic)
July 5 Philadelphia Funk Authority (Funk, Pop, R&B/Soul)
July 6 Rubix Kube (Tribute)
July 7 The Deltaz (Folk Rock)
July 11 Parsonsfield (Americana & Rock)
July 12 The Dip (Soul, Funk & Pop)
July 13 Shamarr Allen (Hip-Hop, Funk & Rock)
July 18 Svetlana & The Delancey Five (Jazz) – SouthSide Swing
July 19 Glenn Crytzer & The Savoy Seven (Swing) – SouthSide Swing
July 20 Harlem Renaissance Orchestra (Jazz) – SouthSide Swing
July 25 Lankum (Celtic)
July 26 Slingshot Dakota (Indie Rock)
July 27 Hollis Brown (Rock)
August
Aug. 15 Lowdown Brass Band (Brass Band)
Aug. 16 Reverend Jefferson (Jefferson Airplane Tribute) – Peace, Love and Rock 'n' Roll
Aug. 17 Craig Thatcher Band Presents the Music of Jimi Hendrix – Peace, Love and Rock 'n' Roll
Aug. 18 Experience Janis (Janis Joplin Tribute) – Peace, Love and Rock 'n' Roll
Aug. 22 The Artisanals (Roots & Rock)
Aug. 23 The Accidentals (Indie)
Aug. 24 Vandoliers (Country)
Aug. 29 Donna The Buffalo (Folk Rock)
Aug. 30 Wanted DOA (Bon Jovi Tribute)
Aug. 31 Making Movies (Latin American Rock)
September
Sept. 1 Swift Technique
Sept. 2 Anthony Geraci (Blues)
Sept. 5 Fairground Saints (Country)
Sept. 6 Blackwater (Celtic)
Sept. 7 The National Reserve (Folk & Rock)