LEVITT PAVILION STEELSTACKS REVEALS SUMMER CONCERT LINEUP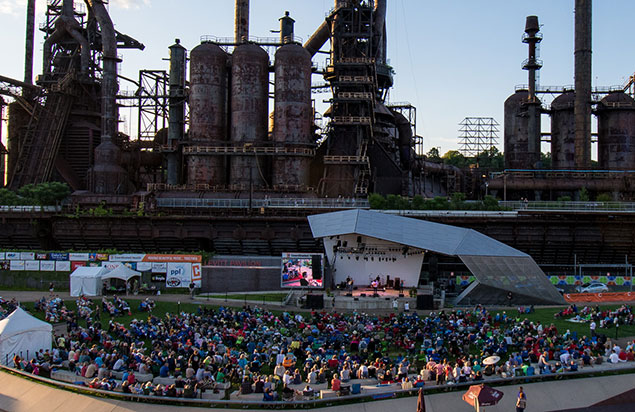 Free performances every Saturday and Sunday, with two special fundraising shows
BETHLEHEM, Pa. — Starting Sat., May 22, Levitt Pavilion SteelStacks, presented by Coordinated Health, now part of Lehigh Valley Health Network, is hosting a series of free concerts at the Levitt Pavilion with diverse bands and artists spanning multiple genres. Performances will happen every Saturday and Sunday night throughout the summer, including two Levitt fundraising concerts with Brooklyn Charmers and The Sofa Kings. The fundraising concert tickets will have a fee, while all other shows will be presented free of charge. To ensure safe social distancing, advance registration is required for all concerts.
All free tickets will be released the Monday prior to the next weekend's concerts. Free tickets will be available on the Levitt Pavilion SteelStacks website or by visiting or calling the ArtsQuest Center Box Office, (610) 332-3378. An individual may reserve up to two pods per Levitt season concert. One ticket for a Levitt lawn pod is good for up to four people. One ticket for a table located on the Air Products Town Square is also good for up to four people. A ticket for a pod on the Levitt Lawn will be considered "unused" and will be released to the public for walk-ups if not scanned in by 15 minutes after the start of each show. Visit the "What to Know" page on levittsteelstacks.org for more information about policies and procedures.
On Saturday, May 29, The Verve Pipe, will rock the stage. With a reputation for spectacular live performances, the multi-platinum alternative rock band is recognized worldwide for their radio hits like "Photograph" and the smash single "The Freshmen."
On Sunday, July 11, Space Kamp will bring their genre-bending talent to the stage, seamlessly mixing hip hop, reggae and psychedelic rock to create a truly original sound. This performance is presented in partnership with Movement Moves Media and Solid Ground Entertainment.
On Saturday, July 17, Black Joe Lewis & The Honeybears return with their new album, "The Difference Between Me & You." On Sunday, Aug. 1, watch award-winning singer-songwriter Ruthie Foster.
On Saturday, August 28, Mako Swing, an urban merengue band with specializations in bachata and salsa music, will perform. This performance is also in partnership with Movement Moves Media and Solid Ground Entertainment.
"We are so excited to be welcoming our community back on the lawn this year for free, live music," said Anne Sturm, Sr. Talent Buyer and Executive Director of the Levitt Pavilion. "Our mission of bringing people together through music and arts remains our primary focus and is important now more than ever. Celebrating diversity, access and inclusion are core to the mission of Levitt and we are committed to remaining a welcoming open space for all people to unite through the universal language of music."
"Levitt is more than a place to see great live music," said Mario Galante, Chair of the Levitt Pavilion SteelStacks Board of Directors. "It is a diverse community of people from all around the Lehigh Valley who share a love of music, a passion for life and a commitment to community.
"We are working to fulfill our mission, but we need our community's support, "Galante said. "Join us on the lawn and if you're able, please donate whatever amount you can to keep the fires of the Levitt Pavilion burning bright for many years to come. You can donate today by visiting: levittsteelstacks.org/donate."
Following all CDC, state and city health and safety guidelines, campus attendance is being limited to ensure proper social distancing. The Levitt Pavilion SteelStacks concert season will require advance registration. Masks – covering both the nose and mouth – are required at all times, aside from when seated in your designated square/table, or actively eating and drinking. SteelStacks guidelines will continue to evolve to reflect CDC, state and city health department standards.
Below is the current list of confirmed shows:
Saturday, May 22 7:30 p.m. Shamarr Allen
Sunday, May 23 6 p.m. Jeffrey Gaines
Saturday, May 29 7:30 p.m. The Verve Pipe
Sunday, May 30 6 p.m. Steel Blossoms
Monday, May 31 6 p.m. The Contact Collective
Saturday, June 5 7:30 p.m. The Slackers
Sunday, June 6 6 p.m. Pentley Holmes
Saturday, June 12 7:30 p.m. Brooklyn Charmers
Sunday, June 13 6 p.m. Caroline Rose
Saturday, June 19 7:30 p.m. Henry and the Reggae Rockers ft.
Conquering Rulers
Sunday, June 20 6 p.m. Habibi
Saturday, June 26 8 p.m. Luisito Rosario Orchestra
Sunday, June 27 6 p.m. Project Grand Slam
Saturday, July 3 7:30 p.m. The Sofa Kings
Sunday, July 4 6 p.m. Allentown Band
Saturday, July 10 7:30 p.m. Kashmir
Sunday, July 11 6 p.m. Space Kamp – In partnership with Movement Moves Media and Solid Ground Entertainment.
Saturday, July 17 7:30 p.m. Black Joe Lewis & The Honeybears
Sunday, July 18 6 p.m. Alexis P. Suter Band
Saturday, July 24 7:30 p.m. Danielle Ponder
Sunday, July 25 6 p.m. Shayna Steele
Saturday, July 31 7:30 p.m. The Big Takeover
Sunday, August 1 6 p.m. Ruthie Foster
Saturday, August 21 7:30 p.m. Dana Fuchs
Sunday, August 22 6 p.m. Aztec Sun
Saturday, August 28 7:30 p.m. Mako Swing – In partnership with Movement Moves Media and Solid Ground Entertainment.
Sunday, August 29 6 p.m. Brianna Thomas
Saturday, Sept. 4 7:30 p.m. Vox Sambou – This engagement of Vox Sambou is made possible through Performing Arts Global Exchange, a program of Mid Atlantic Arts Foundation in partnership with the National Endowment for the Arts.
Sunday, Sept. 5 6 p.m. Roanoke
Saturday, Sept. 11 7:30 p.m. Skerryvore
Sunday, Sept. 12 6 p.m. The Graceland Experience ft. Bakithi Kumalo
Sunday, Sept. 19 6 p.m. Kat Wright
About The Levitt Pavilion
The Levitt Pavilion in Bethlehem is part of a national network of outdoor Levitt music venues and Levitt AMP concert sites dedicated to strengthening the social fabric of communities in America through free, live music in public spaces. Presenting high-caliber talent and a broad array of music genres and cultural programming, Levitt venues are welcoming, inclusive destinations where families, friends and neighbors of all ages and backgrounds come together. Learn more: levitt.org
About ArtsQuest
The Levitt Pavilion sits at the base of the iconic, historical Bethlehem Steel Blast Furnaces, located on the SteelStacks campus next to the ArtsQuest Center. ArtsQuest's mission is to provide access to exceptional artistic, cultural and educational experiences using arts and culture as key elements of economic development for our urban communities. ArtsQuest™ supports this mission via the presentation of performing and visual arts, film, arts education classes and outreach, youth programming and cultural events.