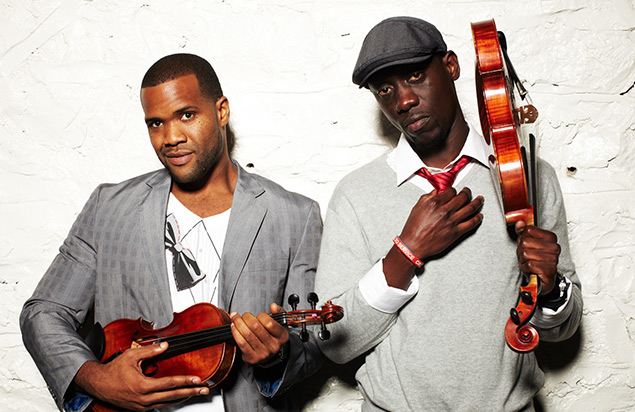 Steve Kimock, Black Violin, The Suffers & More Announced for Levitt Pavilion SteelStacks Summer Concert Series
Series, presented by Coordinated Health, features 50 free concerts from May to September
American Idol winner Nick Fradiani, funk revival group The Suffers, hip-hop and classical duo Black Violin and Bethlehem native Steve Kimock and his band are among the diverse array of acts announced for the 2017 Levitt Pavilion SteelStacks Summer Concert Series Presented by Coordinated Health. The series' seventh season kicks off Memorial Day weekend with shows by The Aardvarks May 26, Nashville folk group Humming House May 27, Dr. K's Motown Revue May 28 and Fradiani on May 29.
On June 2, the Levitt Pavilion welcomes guitar virtuoso Steve Kimock for a special show in the city in which he grew up. Since moving to California in the 1970s, Kimock has toured with the bands he founded, Zero and KVHW, and as a solo artist. In addition, he has shared stages with the members of the Grateful Dead, Peter Frampton, Bonnie Raitt, The Allman Brothers and many other critically acclaimed artists. Known for his improvisation on the guitar, Kimock seamlessly crafts his own style, garnering him the title "Guitar Monk" from Relix Magazine.
On Aug.19, the Levitt National Tour presents the critically acclaimed The Suffers, an 8-piece powerhouse that gets everyone dancing to a fiery blend of Gulf Coast Soul, rock and funk. Listed by Buzzfeed as one of "25 New Artists You Need in Your Life," the group has performed at SXSW, Newport Folk Fest, Austin City Limits Music Festival and the Late Show with David Letterman. In 2017, the band is making its way through 19 states, including a performance at every Levitt Pavilion.
Returning to Levitt this summer is the one and only Black Violin, performing Aug. 25. Viola player Wil Baptiste and violin player Kev Marcus join together jazz, hip-hop, funk and classical genres. Their skillful playing and fresh approach have wowed the Levitt Pavilion in past summers, and the pair even did an artist residency with Bethlehem's Broughal Middle School in 2015.
"Coordinated Health has been a strong advocate for bringing arts, culture and music to the Lehigh Valley over the years," said Coordinated Health Chief Executive Officer Dr. Emil DiIorio. "We are very proud to partner with ArtsQuest to attract such a diverse array of talent to our region, which in turn enhances the quality of life for everyone who lives, works and plays in the Lehigh Valley."
Other Levitt Pavilion SteelStacks Summer Concert Series highlights include performances by Nickel Creek founding member Sara Watkins June 3, rockers Low Cut Connie June 30, Blues Music Award nominees Sugar Ray and the Bluetones July 1, famed doo-wop group The Coasters July 2 and legendary rock 'n' roll band The Platters Aug. 26. Dog lovers should also be sure to check out the fun-filled Strut YourMutt event June 11, featuring a pup-themed parade, dog costume contests and more.
"Through the support of our community, the Levitt Pavilion concert series continues to grow with each passing year," says Levitt Pavilion Executive Director Julie Benjamin. "Last year, close to 90,000 people attended Levitt concerts, and we're truly honored that so many individuals have such a strong affinity for the venue. We thank all of our donors, sponsors and partners, including our presenting sponsor Coordinated Health, the City of Bethlehem, the Bethlehem Redevelopment Authority, Bethlehem Area School District and County of Northampton, for helping to make this unique community resource possible."
In addition to Coordinated Health, the region's only specialized hospital and health network, sponsors at the Levitt Pavilion include Chevy21, Mack Trucks, PPL, Service Electric and many others. Funding for the series is also provided by the Mortimer & Mimi Levitt Foundation.
2017 Levitt Pavilion Summer Concert Series Lineup
Shows begin at 7:30 p.m. unless otherwise noted
Levitt Preview Weekend
May 19 Brian Dean Moore Band w/Jacqui Armbruster (Country Rock)
May 20 Dana Gaynor Band (Blues/Rock)
May
May 26 The Aardvarks (Party Band)
May 27 Humming House (Folk/Soul)
May 28 Dr. K's Motown Revue (Motown)
May 29 Nick Fradiani (Pop)
June
June 1 Black Tie Brass (Jazz)
June 2 Steve Kimock Band (Jam)
June 3 Sara Watkins (Folk/Bluegrass)
June 8 Damon Fowler (Blues)
June 9 Broken Arrow (Neil Young Tribute)
June 10 Billy Price Band (Blues/Soul)
June 11 Sweet Little Bloodhound (Rock/Soul)
June 15 Nik Greeley and the Operators (Funk, Rock)
June 16 Melodime (Alternative Rock)
June 17 TBA
June 18 The Rad Trads (Funk/R&B)
June 22 River Whyless (Folk)
June 23 Herman Olivera (Salsa), 8 p.m. (part of SABOR Latin Festival)
June 24 Kiko Rodriguez (Merengue/Bachata), 8 p.m. (part of SABOR)
June 25 Jakubi (Hip-Hop/Reggae)
June 29 Frontiers (Journey Tribute)
June 30 Low Cut Connie (Rock 'n' Roll)
July
July 1 Sugar Ray and The Bluetones (Blues)
July 2 The Coasters (Oldies)
July 3 Nalani & Sarina (Rock/Soul)
July 4 Allentown Band (Patriotic)
July 6 Not Fade Away (Tribute to Buddy Holly, Ritchie Valens & More)
July 7 Randall Bramblett Band (Rock)
July 8 Ceramic Animal (Indie Rock)
July 13 Kwesi K (Indie/Americana/R&B)
July 14 Qiet (Rock)
July 15 Briga (World)
July 20 Avalon Jazz Band (part of SouthSide Swing)
July 21 Michael Arenella & His Dreamland Orchestra (part of SouthSide Swing)
July 22 Evan Sherman Big Band (part of SouthSide Swing)
July 28 T Sisters (Folk/Americana/Soul)
July 29 Incendio (World)
August
August 17 Walker Hayes (Country)
August 18 The Weeklings (Beatles Tribute)
August 19 The Suffers (American Soul)
August 24 Nick Moss Band (Blues)
August 25 Black Violin (Hip-Hop/Classical)
August 26 The Platters (Oldies)
August 31 Rockin' Jake (Blues)
September
September 1 Sean Fleming Band (Celtic)
September 2 Allentown Symphony Orchestra (Broadway Pops Concert)
September 3 Craig Thatcher Band (Blues)
September 4 Chris Thomas King (Funk)
September 7 Green River (Creedence Clearwater Revival Tribute)
September 8 Jimmy & the Parrots (Jimmy Buffet Tribute)
September 9 Leather Tramp (Folk Rock)