LEVITT PAVILION STEELSTACKS HOSTS OUTDOOR FUNDRAISER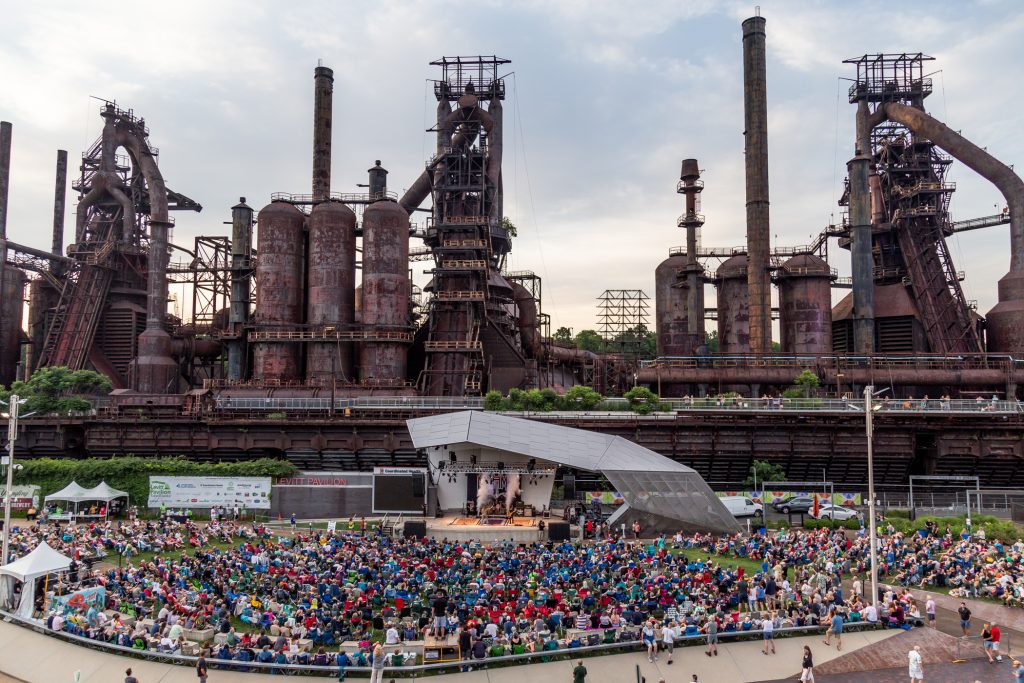 Tickets now on sale for June 10th Chicago Tribute Celebration Show
BETHLEHEM, Pa. — Levitt Pavilion SteelStacks presented by Lehigh Valley Health Network is excited to announce "Beginnings-A Chicago Celebration" on Friday, June 10. Tickets for Friends of Levitt members and the general public are now on sale. All ticket proceeds will go to supporting Levitt Pavilion SteelStacks whose mission is to build a diverse community through the power of free live music. Tickets can be purchased at Levittsteelstacks.org or Steelstacks.org, or by visiting ArtsQuest Center Box Office directly or by calling (610) 332-1300.
As a part of the Levitt Pavilion concert series, "Beginnings- A Chicago Celebration," is a fundraising concert tribute to the music of Chicago performed by world-class musicians and vocalists who bring the sound, excitement and emotion of three decades worth of hits by the Rock 'n' Roll Hall of Fame inductees. Performing without a pre-recorded track, all the members of this tribute band bring talent and high-energy to each song including "Saturday in the Park," "Hard to Say I'm Sorry," and "Beginnings." All ticket proceeds from this show will go directly to supporting Levitt Pavilion SteelStacks free concert season.
On Sunday May 1, at 3 p.m., Levitt Pavilion SteelStacks presented by Lehigh Valley Health Network, will host this year's line-up reveal with special guests Craig Thatcher and Cliff Starkey. Following their performance Patrick Brogan, ArtsQuest Chief Programming Officer and Manager of ArtsQuest Center along with Shayna Super, ArtsQuest Programming Manager will announce Levitt Pavilion's 2022 season schedule.
"Over the past 11 years, Levitt Pavilion SteelStacks has presented nearly 600 concerts for our community, positively impacting nearly 650,000 community members. Free, accessible live music experiences such as Levitt concerts foster social connections among people of all ages and backgrounds – strengthening the social fabric of our community," Anne Sturm Executive Director of Levitt Pavilion SteelStacks said. "Music has the power to connect us all, and the 2022 concert line up will have you excited for the summer weekends! Get your lawn chairs and blankets ready for unforgettable nights at Levitt!" The Levitt Pavilion SteelStacks concert series, occurs May 20 through Sept. 11, features free professional concerts at the Levitt Pavilion every Thursday-Saturday and select Sunday nights. Festivals included in Levitt's 2022 summer line up are Sabor Latin Festival on June 24-26, Blast Furnace Blues on July 22-24 and One Earth ReggaeFest on July 2. Back again this summer is Levitt Pavilion SteelStacks Free Family Movie Series presented by UGI Utilities, Inc., taking place on the lawn on select Tuesday and Wednesday nights. The first movie for 2022 is Sing 2 on Wed., May 25.  Stay tuned to the Levitt website for line-up updates.