Coordinated Health Signs on as Presenting Sponsor of 2017 Levitt Pavilion SteelStacks Summer Concert Series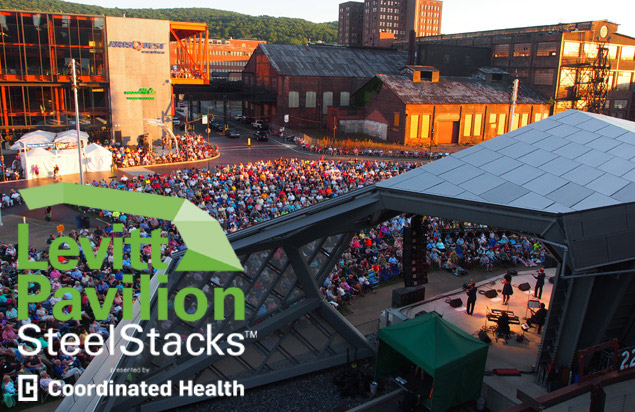 Complete Lineup of 50 Shows to be Announced Tomorrow at 10 a.m.
Bethlehem, PA—Starting May 26, thousands of music fans from near and far will be able to enjoy free concerts at the base of Bethlehem Steel's iconic blast furnaces thanks to the support of Coordinated Health as the Levitt Pavilion SteelStacks Summer Concert Series returns for its seventh season. For 2017, the region's only specialized hospital and health network has stepped up by taking a lead role in supporting the concert series, which brings 50 free concerts to the Lehigh Valley region from Memorial Day weekend through Sept. 9.
Opened in 2011, the Levitt Pavilion SteelStacks is a partnership between the nonprofit ArtsQuest, City of Bethlehem, Bethlehem Redevelopment Authority, Bethlehem Area School District, the County of Northampton and now Coordinated Health. The outdoor music venue, which is part of the network of Levitt Pavilions across the nation, is focused on bringing people together and strengthening the community through music.
Since July 2011, the Levitt SteelStacks has presented nearly 300 free concerts, including shows by Marcia Ball, Lake Street Dive, Fabulous Thunderbirds, Coco Montoya, Pure Prairie League, Black Violin and more. Concerts are presented Thursdays-Saturdays at 7:30 p.m., with additional performances on holiday weekends like the Memorial Day and Labor Day weekends.
"Coordinated Health has been a great partner with ArtsQuest the past few years, supporting Musikfest programming, concerts and the Lehigh-Lafayette Game viewing event at SteelStacks," says Curt Mosel, Chief Operating Officer of ArtsQuest, which programs the venue. "This year, however, they got involved in a huge way, helping our nonprofit present this dynamic summer music series for our residents.
"While Levitt Pavilion concerts are free to attend, there are certainly costs associated with bringing in and presenting nationally touring acts. Coordinated Health's support is so important, especially since we didn't have a title sponsor in 2016. Thanks to their investment in our community, more than 90,000 people will be able to enjoy great, live music this summer."
Last year's Levitt Pavilion Summer Concert Series drew an estimated 89,000 attendees to concerts by the Blind Boys of Alabama, American Idol's Crystal Bowersox, Ambrosia and more. Fans of the music series only have to wait one more day to learn who's performing at the popular outdoor venue this year – the complete Levitt Pavilion Summer Concert Series presented by Coordinated Health will be announced tomorrow, 10 a.m., at www.levittsteelstacks.org, www.facebook.com/levittsteelstacks/ and twitter.com/levittstacks.
Coordinated Health is a specialized hospital and health network with locations throughout eastern Pennsylvania and western New Jersey. CH employs more than 1,200 highly skilled personnel across 17 locations, with facilities including specialty hospitals, an ambulatory surgical center, transitional care unit, multi-specialty clinics and Care on Demand walk-in care centers. For more information about Coordinated Health, visit CoordinatedHealth.com.