2023 Levitt Pavilion SteelStacks Concert Season – What to Know
WEATHER INFORMATION
Concerts are rain or shine. Occasionally performances may be delayed, shortened, postponed, or canceled due to weather. In the event of a temporary weather evacuation, guests on Levitt Lawn must evacuate to the safety of the ArtsQuest Center and/or the Bethlehem Visitors Center (as space allows) or to the safety of their vehicles in the parking lot.
For the most up-to-date information, download the Levitt SteelStacks app where you can receive weather alerts and the latest updates on our lineup. You can also visit our social media pages, facebook.com/levittsteelstacks and instagram.com/levittstacks.

WHAT TO BRING TO A LEVITT PAVILION STEELSTACKS CONCERT
Friends and family
Blankets or folding chairs. Please note: Any personal items dropped off on the lawn prior to the show is at your own risk. The Lawn is not monitored for your belongings.
Coolers are permitted (non-alcoholic beverages only) on LEVITT LAWN only. Coolers are NOT permitted on the Air Products Town Square.
A great attitude. Please be courteous, respectful and mindful of those around you.
SMOKING IS NOT PERMITTED on the Levitt Lawn.
FOOD AND DRINKS AT STEELSTACKS
Food and Beverages are available at The Mack Truck Stop as well as the Palette & Pour restaurant in the ArtsQuest Center.
Coolers are permitted (non-alcoholic beverages only) on the LEVITT LAWN only.
Coolers are NOT permitted on the Air Products Town Square.
Bringing in outside alcohol is strictly prohibited.
Removing alcoholic beverages from the site is strictly prohibited.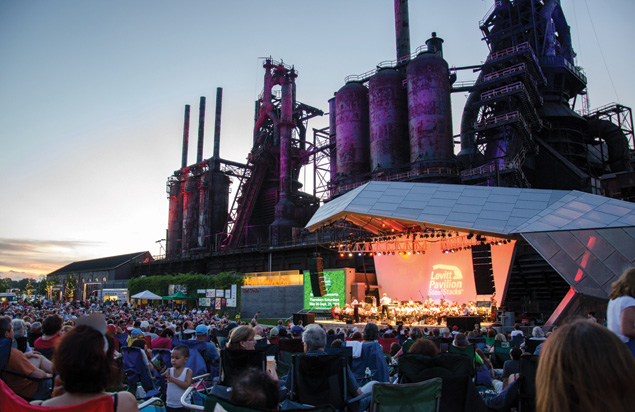 POLICIES & PROHIBITED ITEMS:
Weapons of any kind
Illicit drugs
Bringing in outside alcohol and removing alcoholic beverages from the site
Smoking is not permitted on the Levitt Lawn, Town Square, in tented areas, or inside any buildings on the SteelStacks campus
Smoking is only permitted outdoors in areas away from guests, tents and building entries
Unauthorized audio/video recording
Unauthorized soliciting and protesting
Bikes, skateboards, roller blades
Amplified audio devices (megaphones, radios, etc.)
Laser pointers
Climbing on any structures, scaffold towers or stages
Defacing property within the grounds (this will result in prosecution)
Drones
Shoes and shirts must be worn at all times
Tailgating in parking lots at any time including but not limited to consuming alcoholic beverages, grilling, blocking traffic lanes and/or parking spaces with chairs
PETS at LEVITT PAVILION STEELSTACKS CONCERTS
Pets are permitted on the Levitt lawn. Pets are NOT permitted on the Air Products Town Square (except for service animals). Exotic animals such as birds and reptiles (snakes and lizards) are not permitted. Please follow a few simple doggie do's and don'ts:
Pets must be leashed and well behaved at all times.
Please remember to clean up after your pets. Dog waste stations presented by Christmas City Veterinary Hospital are located by the flywheel for your convenience.
Handler must be a responsible adult.
All pets must display current license and vaccination tags.
Service animals: All service animals must be trained to perform a task. Comfort pets are not considered service animals by the Americans With Disabilities Act and are therefore not permitted on the Air Products Town Square or inside the ArtsQuest Center or Bethlehem Visitors Center presented by St. Luke's University Health Network.