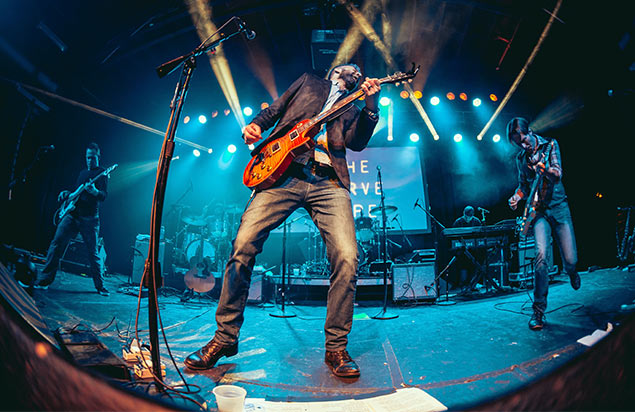 The Verve Pipe
Saturday, May 29 · view days & times
Venue: Levitt Pavilion SteelStacks

FREE
With a reputation for spectacular live performances, the multi-platinum alternative rock band The Verve Pipe are recognized worldwide for their radio hits "Photograph," "Hero," "Happiness Is," "Never Let You Down" and #1 smash single "The Freshmen."
In addition to their success on radio, TV and film, they've sold-out concert dates throughout the U.S., Canada, Europe and Australia and have been featured in Rolling Stone, Interview Magazine and many more. The band has also been featured in videos on MTV and VH1, as well as made numerous television appearances, including on "The Tonight Show with Jay Leno" and "Late Night with David Letterman."
Between recording rock albums, including their most recent release, "Parachute," and their first-ever live album "Villains–Live & Acoustic," featuring an acoustic reimagining of their platinum debut album "Villains," The Verve Pipe expanded their repertoire to include writing and recording "A Family Album," their critically-acclaimed introduction to the world of children's music, as well as their follow up family-oriented release, "Are We There Yet?"
With a new lineup and a renewed energy and focus, lead singer/principal songwriter and founder Brian Vander Ark and the band continue to deliver original music that is distinguished by innovative arrangements, soul-searching lyrics and layered vocals.
The Verve Pipe perform both rock and kids shows throughout North America, including notable appearances at Lollapalooza, Austin City Limits Festival, Lincoln Center, Hangout Music Festival, SummerStage in Central Park and many more.
All free tickets will be released the Monday prior to the next weekend's concerts. Free tickets will be available on the Levitt Pavilion SteelStacks website or by visiting or calling the ArtsQuest Center Box Office, (610) 332-3378. An individual may reserve up to two pods per Levitt season concert. One ticket for a Levitt lawn pod is good for up to four people. One ticket for a table located on the Air Products Town Square is also good for up to four people. A ticket for a pod on the Levitt Lawn will be considered "unused" and will be released to the public for walk-ups if not scanned in by 15 minutes after the start of each show. Visit the "What to Know" page on levittsteelstacks.org for more information about policies and procedures.
Partners
This program is being funded in whole or in part with funding from the Grow NORCO Grant Program through the County of Northampton Department of Community & Economic Development.
Schedule
Venue Information
Levitt Pavilion SteelStacks
645 E. First Street
Bethlehem, PA 18015
610-332-1300
map & directions