How Sweet the Sound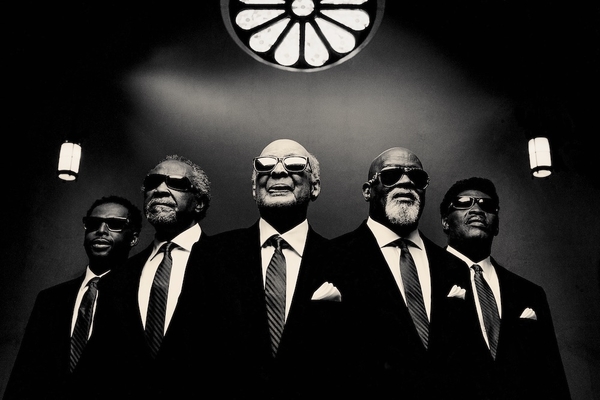 The Blind Boys of Alabama's Ricky McKinnie Talks Positivity & the Power of Gospel Music
By Emily Cummins, Public Relations Coordinator
Performing and recording for more than 75 years, The Blind Boys of Alabama have stayed true to their gospel mission of spreading joy and teaching strength. As children, the original members began singing together at the Alabama Institute for the Negro Blind in the late 1930s. Through the years, the musicians have changed, but their inspiring and uplifting message has stayed the same.
"I'm not blind; I just can't see," says drummer and vocalist Ricky McKinnie.
Around the age of 20, McKinnie, who had been performing with notable gospel groups like The Soul Searchers and The Gospel Keynotes, began losing his sight due to glaucoma. By 1975 he had lost his sight. Instead of letting his disability derail his life, he persevered through faith, and in 1990 joined The Blind Boys of Alabama.
Hailed as "gospel titans" by Rolling Stone, the group first rose to fame in the segregated south with their thrilling vocal harmonies and roof-raising live show. They released their debut single, "I Can See Everybody's Mother But Mine," on the iconic Veejay label in 1948, launching a 70-year recording career that would see them earn five GRAMMY Awards including a Lifetime Achievement Award; enter the Gospel Music Hall of Fame; collaborate with everyone from Mavis Staples and Stevie Wonder to Prince and Lou Reed; and perform on the world's most prestigious stages.
Ahead of the group's Levitt National Tour with Paul Thorn which stops June 1 at Levitt Pavilion SteelStacks, we spoke with McKinnie about the legacy of The Blind Boys of Alabama and why Gospel music matters now more than ever.
AQ: In July and August you're traveling the country on the 2018 Levitt National Tour. What does it mean to you to perform on free stages in a variety of different communities?
Music is a universal language. It means a lot to be able to reach out and connect with people, and if we can impact just one person in the audience with our music that's important. People need people. When we sing, we want to show people they have a friend in us.
AQ: Can you talk about what's special about experiencing your music live and in person, and how it's different for you as an artist?
What's from the heart reaches the heart. When you do a live performance that's something you can't get on the radio. It means the world for someone to get a chance to see music live. You can't put a price on connecting with people. That's what our music is for. If they're sad, we want to make them feel glad. That's what it's all about.
AQ:What makes for a great gospel song?
Gospel music is feel good music. It puts something on your mind. It lets you know that no matter how bad a situation is, there's always a way out and a way through. In a world like this we all need something to hold on to, whatever that may be for each of us. We don't come to preach, but we come to sing about positivity and prosperity… the notion that you can make it if you try.
AQ:What's your favorite gospel song?
Every song tells a story. If the lyrics are powerful and tell a story that people understand, that's what makes a powerful song. I have a lot of favorites, but I'd have to say the one that speaks to me the most is "If I Can Help Somebody." The lyrics say, "If I can help somebody, as I'm singing the song you know, my living shall not be in vain."
That's a powerful message, and that's what I live by.
AQ: Personally, you've been an inspiration to people with blindness, can you talk about how that's impacted your work?
Disability doesn't have to be a handicap. I lost my sight in '75, and as a musician it was tough. The Blind Boys of Alabama inspired me, seeing how they endured throughout the years. It's one thing to be a sighted group, but to be a black blind quartet and to have done all the things The Blind Boys have done, they were really favored by God.
I've been a member of The Blind Boys for 30 years, and it's because I'm a dreamer. I've learned that if you dream and dream, do the work and keep the faith, things usually work out all right.
AQ: What is next for the group?
We're getting ready to go to Europe for 18 days then we'll be headed to Dollywood and the New Orleans Jazz & Heritage Festival. Then it's time for Levitt, and we'll make our first stop in Bethlehem. Don't miss it when the boys are back in town!
AQ: With such a long and historic career, what has been your favorite place to perform of the years?
All of our performances are special for us, but anytime you're invited to the White House is a spectacular honor. We've done it for three presidents; that's when you know you're doing something right.
Bonus Question: If you could play a show anywhere in the world (and I mean "under the sea" anywhere) where would you play and who's in the audience?
If we could play in heaven, that would be good enough for me.