Kam Franklin Talks 2017 Levitt National Tour & What's Next for The Suffers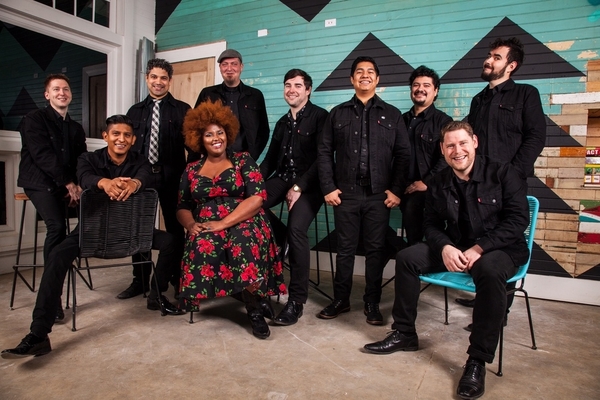 By Emily Cummins, Public Relations Coordinator
Building upon the success of previous Levitt National Tours—Playing For Change in 2014 and Black Violin in 2015—the Levitt Foundation is pleased to present the 2017 Levitt National Tour this summer featuring Houston's The Suffers.
Led by Kam Frankin's powerful vocals, The Suffers masterfully meld classic American soul with genres as wide-ranging as rock, Latin, ska, Cajun, hip-hop, country and R&B to create what they call "Gulf Coast Soul." This approach has already earned the 8-piece band a place on numerous 'artists to watch' lists, rave reviews from Billboard, NPR and The New York Times and a growing international fan base.
The group will make its stop at SteelStacks Aug. 19, 7:30 p.m., for a free performance as part of the Levitt Pavilion Summer Concert Series. Ahead of the tour, we spoke with Franklin about the band and its music.
AQ: In July and August you're traveling the country on the 2017 Levitt National Tour. How is this different from other shows our tours you've done before?
KF: It's different because these shows are all outdoors and all ages. We try to keep the energy even higher, happy and inspired.
AQ: What's the importance or impact of sharing your music to a live audience at no cost to the public, especially in a diverse community like South Bethlehem?
KF: We try to help people find a little bit of joy by letting go of whatever is troubling them at our shows. Music can be therapy, and we just want to do our part to help people feel better about themselves. We understand that concerts can be expensive, and we love opportunities like this because it allows us to share our art with everyone no matter what their background or financial situation may be.
AQ: With appearances on late night shows like Letterman, Jimmy Kimmel Live and The Daily Show, a lot of your fans may only have exposure to you through recorded music or those performances. Can you talk about what's special about experiencing your music live and in person, and how it's different for you as an artist?
KF: The emotion. We're not robots, so you're going to have a different energy at each show, but I can guarantee that you'll end up feeling great when you leave. Unless you just hate having a good time.
AQ: The Suffers' sound is self-described as "Gulf Coast Soul." Deeper than just the genre, what does "Gulf Coast Soul" mean to you?
KF: It means whatever we decide it is that day. Forbes magazine has labeled Houston as the most culturally diverse city in the U.S. the last two years, and we feel as though our music is a representation of that diversity. We are inspired by the city of Houston, and that culture can be heard in our music. It's all over the place sometimes, but it all comes together in the end to form this familiar, yet unique sound.
AQ: What has inspired your intense and powerful songs like "Make Some Room," "Giver" and "Stay," and with a large group, what is the creative process like?
KF: The lyrics are inspired by personal experience. "Make Some Room," for example, was written about the spouses of my bandmates. They do so much to help us pursue this dream, and I'm so grateful to them. I wrote the song as a reminder to the guys of how lucky they are. The creative process usually starts out with someone presenting a bare bones demo. From there, each member adds their own flare during a jam, and we go from there. Again, sometimes it's super chaotic, but it's our own organized chaos, and we love it.
AQ: Who are your musical icons or major influences, and what new artists do you most admire?
KF: Prince, Fania All-Stars, Dolly Parton, King Tubby, U.G.K., Earth, Wind and Fire, and Chicago are just a few and right now we're listening to Raury, Haihttps://www.youtube.com/watch?v=RM3hj-6F1pk Natives.
AQ: I've read a little about this elsewhere, but can you explain where the band got its name and why it was chosen?
KF: It's a reference to an old Jamaican film called "Rockers." In that film, the artists are actually the sufferers. They aren't rewarded fairly for the work that they do, even though everyone else is making money off of them.
AQ: What is next for The Suffers? What is the group working on now?
KF: We are about to head out onto the summer festival circuit. We're excited about playing the Interstellar album. We're taking our time, but we hope to have some new music out within the next few months.
Bonus Question: If you could play a show anywhere in the world (and I mean "under the sea" anywhere) where would you play and who's in the audience?
KF: Even tie between Glastonbury or The Hollywood Bowl. In the audience? Everyone that has supported us along the way. Standing outside without a ticket? Everyone that ever doubted us.