Michael Arenella & His Dreamland Orchestra and The Evan Sherman Big Band Highlight Performances at 2nd Annual
Southside Swing at SteelStacks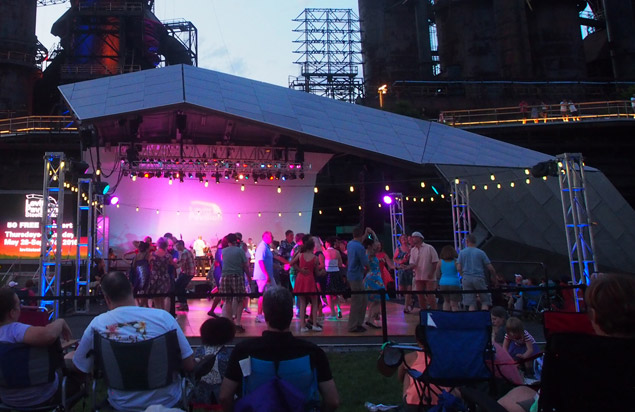 Free Beginner Swing Lessons on 24×24-foot Levitt Lawn Dance Floor
Grab your dancing shoes and get ready as Southside Swing returns to SteelStacks July 20-22 for three nights of swing, rockabilly and hot jazz!
Taking the stage throughout the weekend as part of the Levitt Pavilion SteelStacks Summer Concert Series presented by Coordinated Health are Michael Arenella & His Dreamland Orchestra, which brings to life popular 20th century swing and jazz. Arenella also produces the popular Jazz Age Lawn Party at Governors Island in New York City. Additional Levitt shows include The Avalon Jazz Band, which plays French and American Swing jazz and The Evan Sherman Big Band, a 16-piece jazz party group. The fun continues with music under the stars at the TD Bank Community Stage featuring Chelsea Reed & the Fairweather Five and Susquehanna Industrial Tool & Die Co.
These free musical performances are highlighted by large wooden dance floors on both on the Levitt Lawn and the Air Products Town Square at SteelStacks. Attendees are also invited to join Catasaqua's The Gas House Dance Hall for free beginner swing lessons before the shows.
The complete schedule of Southside Swing events is:
July 20
6:45 p.m. – FREE Beginner Swing Lesson
7:30 p.m. – Avalon Jazz Band, Levitt Pavilion
July 21
6:45 p.m. – FREE Beginner Swing Lesson
7:30 p.m. – Michael Arenella & His Dreamland Orchestra, Levitt Pavilion
9 p.m. – Chelsea Reed & the Fairweather Five, TD Bank Community Stage

July 22
6:45 p.m. – FREE Beginner Swing Lesson
7:30 p.m. – The Evan Sherman Big Band, Levitt Pavilion
9 p.m. – Susquehanna Industrial Tool & Die Co., TD Bank Community Stage