What to Know
Levitt Hotline: 610-297-7285
Get the latest information on concerts, weather updates and more, 24 hours a day.
What to Bring
Friends, family and loved ones!
Blankets or folding chairs. Lawn seating is available on a first-come, first-served basis. The front section of the Pavilion is reserved for blankets only.
Sunscreen, a hat, bug spray… any protection from Mother Nature you may need
Food & beverage is available for purchase at the ArtsQuest Center Mike and Ike Bistro and the Mack Café.
Coolers are permitted (non-alcoholic beverages only)
A great attitude. Please be courteous and mindful of those around you.
NO SMOKING is permitted on the Levitt lawn.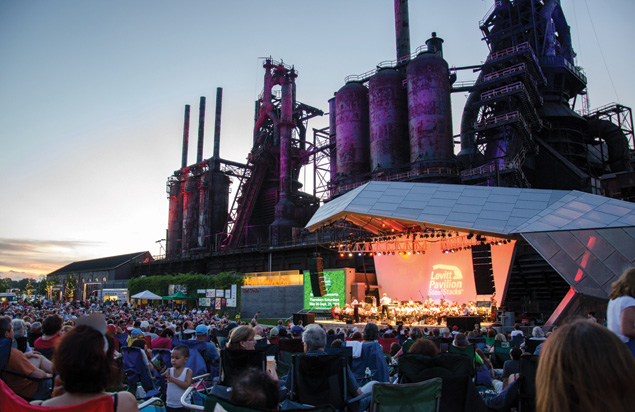 Dogs!
That's right, there is a special Pet Park section reserved for dogs and their owners. Please follow a few simple doggie do's and don'ts.
Dogs must be leashed at all times
Please remember to clean up after your dogs. Dog waste stations are located in the Pet Park for your convenience
No more than two dogs per handler are permitted in the area at one time
Handler must be a responsible adult
No animals other than dogs are permitted in the area
Handlers must be present with their dog(s) and have them under visual and voice control at all times
All dogs must display current license and vaccination tags
EXCEPTIONS
Festival rules will apply apply to the Levitt Pavillion Concerts & Movies on dates which a Levitt Pavillion show overlaps with a Festival. Festival rules will apply to the following events/dates:
June 26: Soccer Fest (additional Soccer Fest dates may be added as the World Cup progresses.)
July 11: Monster Energy BMX Team
August 6 – 16: Musikfest
On these dates the following items will be prohibited from the Levitt Pavilion Concerts:
Bringing outside food or beverages to the festival grounds
Coolers and pitchers
Removing alcoholic beverages from the site
Pets, except ADA approved assistance dogs
Bikes, skateboards, roller blades
Laser pointers
Unauthorized soliciting
Smoking in any tented areas, indoor venues or Sands Steel Stage seating sections
Climbing on any scaffold towers or stages
Defacing property within the Musikfest grounds (this will result in prosecution)
Unauthorized audio/video recording
Please note: Shoes and shirts must be worn on the festival grounds.